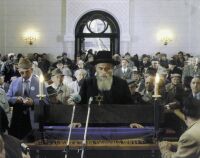 Service at Warsaw's Nozick Synagogue, renovated and formally transferred to Jewish religious commune on 18th April 1983. In 1973 it was recorded in the Register of Monuments of Architecture.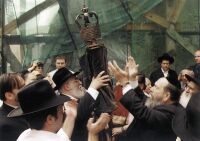 31st July 1996; at Kraków's Kazimierz the Torah rediscovered after years was formally transfered to the Remuh Synagogue by the Catholic' Jewish organiztion "R'fa-aye-nu Society". For the first time the Christians were invited to take part in such an event, and were honoured with the priviledge of carrying the canopy over the Torah.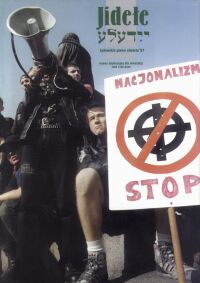 A few years ago a group of the youth from Warsaw began publishing magazine "Jidełe"(Yiddish: "little Jew"). It contains articles in Polish and is aimed at all young people in Poland who are interested in the Jewish issues.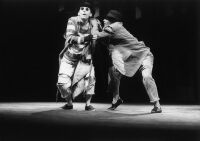 Mime company of the State Jewish Theatre in Warsaw performing Ignacy Krasicki's fable "The Blind and the Lame" - premiere 1995.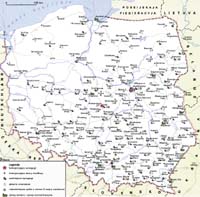 Map of the sites connected with the history and present day of the Jews in Poland.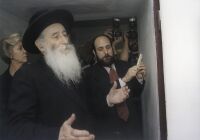 Pinchas Menachem Joskowicz, Chief Rabbi of Poland and Rabbi of Warsaw, following the Jewish custom is affixing the mezuzah to the door.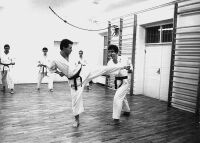 In February 1994 there came into being Jewish Sports Club "Makabi", which name refers to the traditions of the Jewish sports during the interwar period. There are three sections so far: fencing, karate and bridge.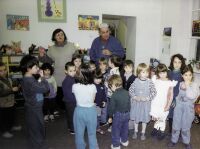 Jacek Kuroń visiting the Jewish nursery school, that has been operating for many years at the Ronald S. Lauder Foundation in Warsaw.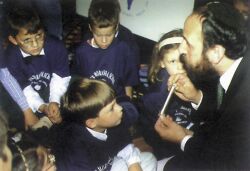 Rabbi and his disciples in Lauder Morasha School in Warsaw. The school, established in 1994, is the only one Jewish elementary school in Poland.


The end of the communist era meant freedom for the Jewish community as well. In today's Poland there live about 12 thousand Jews, most of whom are over 60 years old. About 7 thousand belong to various Jewish organizations and societies. Among the biggest there are: Socio-Cultural Society of Jews in Poland and Union of Jewish Religious Communes in the Republic of Poland. There are 9 Jewish religious communes with 7 branches. There function several synagogues and houses of prayer. There are being published Jewish magazines. In Warsaw there operates Jewish Theatre and Jewish Historical Institute. In 1994 after 23 years there were reopened (also in Warsaw) the Jewish elementary school, and the following year there came into being the Jewish sports club, KS. Makabi.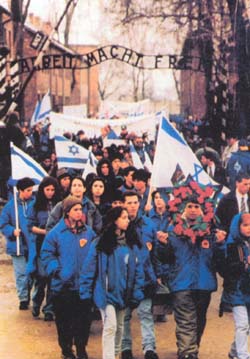 "March of the Living" of 1996. Each year in April several thousand of young Jews from all over the world meet in Auschwitz, marching there together with the group of their Polish friends, as they say "to recover their memory" and to demonstrate their solidarity to the world.