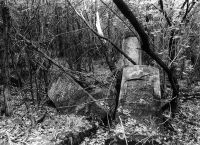 Ruined Jewish cemetery in Otwock. There are hundreds of cemeteries in such condition throughout the country.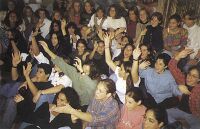 Youth from Israel visiting St. Wyspiański secondary school in Kraków, April 1994. In 1993 on the initiative of prof. Janina Górz, in that school there came into being the first linguist Hebrew class in Poland.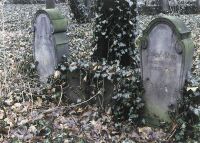 Old Jewish cemetery in Wrocław.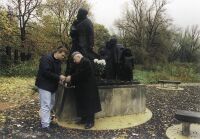 Szymon Szurmiej, President of the Socio-Cultural Society of Jews in Poland and the representative of the Polish Union of Jewish Students lighting candles at the monument of Janusz Korczak, Warsaw, November 1996.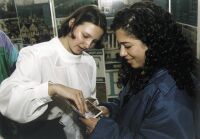 Kasia - student of the "Hebrew class" from Kraków and her Jewish friend from the United States. They met after several years of exchanging letters, Kraków April 1996.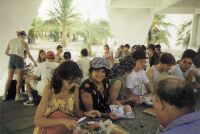 "Hebrew class" from Kraków revisiting Israel, August 1994. Unfortunately the Polish and Israeli youth exchange is still rather scarce, though its a well-known fact that the direct relations are the best way of getting rid of prejudices.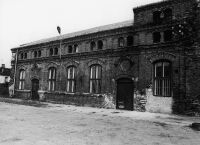 Synagogue returned to the Jewish community in Góra Kalwaria (before used as a storehouse by the local cooperative). Unfortunately the issue of return of the property of Jewish religious communes is far from being settled. About 300 synagogues in Poland are ruined to various degrees.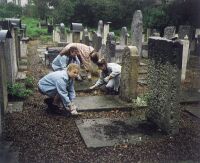 Youth cleaning Remuh cemetery in Kraków. It depends on them, whether the lasting for almost a whole millenium culture of Polish Jews will survive in our memory.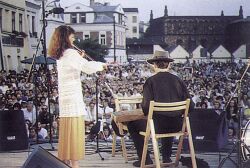 Concert of Deborah Strauss and Kurt Bjorling in Szeroka Street during 5th Festival of the Jewish Culture (18th-25th June 1995). This festival, organized since 1988, gathers masses of the Kraków's inhabitants and tourists interested in the Jewish culture.


Over millenium long history of Polish Jews is a part of the history of Poland. Those two different cultures can complement and enrich each other. This principle determines the activities of numerous Polish institutions. In Kraków and in Warsaw there function research centres focusing on the Jewish history and culture. Since 1988 in Kraków there are organized Festivals of the Jewish Culture, gathering thousands people at Kazimierz - former Kraków's Jewish district. In the mid 1980s there began extensive conservation works aiming at preserving Jewish historic monuments, supported by numerous international foundations. There was also launched the programme of exchange of the youth from Poland and Israel. This initiative marks a new stage in the Polish-Jewish relations.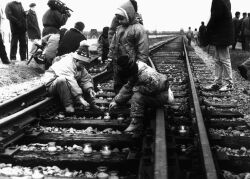 Children lighting candles at the ramp of the former camp in Birkenau during the celebrations of the 50th anniversary of its liberation, January 1995.