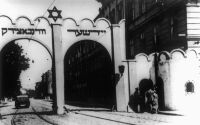 The entrance to the Kraków's ghetto, view from the Podgórze's market square. The Kraków's ghetto was surrounded by a wall suggestive of the Jewish grave slabs (macebas).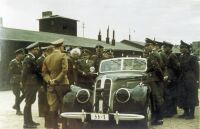 Chaim Rumkowski, chairman of Judenrat in Łódź's ghetto greeting the head of the Reich Security Main Office (RSHA) H. Himmler, 5th June 1941.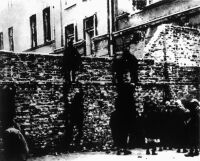 Jewish children getting through the Warsaw ghetto wall in search of food and shelter.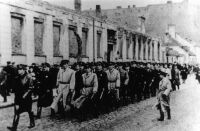 Column of the members of Jewish Order Sevice (OD) marching through the Warsaw Ghetto.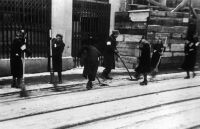 Kraków's Jews clearing the streets of snow during their forced labour. The Jewish population was regarded as the free labour force. They were cleaning streets, working in workshops and factories taken over by the Germans' administration, for minimum wages or for food rations only.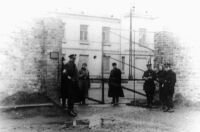 The post at the entrance to the Warsaw ghetto leading off to the cemetery, 1941. According to the occupants' regulations, outside the ghetto wall there were posts of the German military police and Polish Blue Police, and inside of Jewish OD-men.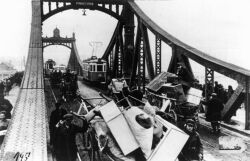 Kraków's Jews being transferred to the ghetto. The view over the Józef Piłsudski Bridge, 3th March 1941. To the Kraków's ghetto, one of the last established ones, there were moved almost 70 thousand Jews.


In 1940 the Jews had to move to special closed districts - ghettos. By the Germans' order there were established Jewish Councils (Judenrats) and the Jewish police. As administrative bodies of the ghettos, they were forced to collaborate with the Nazis in the implementation of their extermination programme. To keep up apearances of normality the occupants for short period of time opened schools, cinemas and restaurants in the ghettos. But the Germans gradually made the living conditions worse and the ghettos became a hotbed of deseases and famine. More and more people were forcibly moved to ghettos, and limited food rations coerced inhabitants into smuggling, bribery and collaboration, that were necessary conditions for surviving.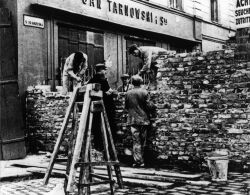 The construction of the wall surrounding Warsaw ghetto, Świętokrzyska Street, October 1940. The Jews gathered in the appointed districts were enclosed not only within brick walls and barbed wire fencings but also within "walls" of indifference and fear.