Robert Szuchta


"THE REST IS NOT SILENCE"
The story of Dawid Rubinowicz and his "Diary"
The fate of the Rubinowicz family is unknown. We can only suspect and try to recreate the facts basing on the scanty and indirect sources.
On Saturday, September 19th, 1942 all Jews from the ghetto in Bodzentyn were displaced and sent to Suchedniów, the place around 17 kilometers away. The deportation operation looked quite similar to those all small ghettos in the district around Radom. They were especially cruel.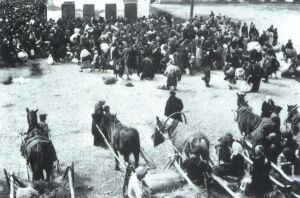 Fot.5
The eyewitness and the inhabitant of Bodzentyn- Jan Fąfara - tells: "The alarm started at 8 am. The bells were ringing, the gendarme and the Jewish police went from house to house, where the Jews lived, and belched the luckless people from their flats. [...] The sick, the elderly, the decrepit and children were carried out on their backs by their family members. Together with the Jews from Słupia Nowa they were taken through Wzdół Rządowy and Michniów to Suchedniów. How many hours did the way to Golgota take? In the street, there were lying so many dead bodies of the murdered people, mainly women, the elderly and children. And next to that there were lying abandoned piles of their belongings." The cruel terror aimed to killing eventual resistance try-outs of the deportees in advance. In this way the instigated, disorientated and scared people were completely subordinated to the will of their executioners.
On Monday, September 21st 1942, on the day of the Jewish celebration Jom Kipur, everyone was loaded into the cattle carriages.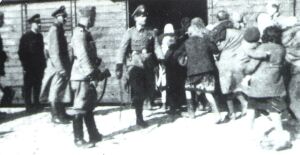 Fot.6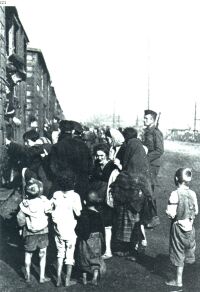 Fot.7

The train with the deportees, according to the german railschedule nb. 587, left to towards destination station Treblinka.

Among the victims, who arrived to Treblinka on September 22nd, 1942 was Dawid Rubinowicz with his parents and siblings. The Family must have been separated- the mother with the younger children and the father with his son, Dawid. Dawid was at that time already 15 and surely was murdered together with the group of men. 4 hours and 35 minutes later the train, that brought the Jews to Treblinka, went empty back, in order to bring further deportees to the destination station. Until then Dawid and his family were not alive any more.