Robert Szuchta


"THE REST IS NOT SILENCE"
The story of Dawid Rubinowicz and his "Diary"
The diary of Dawid Rubinowicz (excerpts)
The diary of Dawid Rubinowicz is a unique testimony of one Jewish boys' fate during the Holocaust. Why did Dawid write his diary? Did he have similar reasons for writing as Anne Frank had? What was the reason for a milkman son, in whose family there was no tradition of writing, started day by day to write down his experiences from the time of growing fear? There are no direct answers in the diary itself for these questions. We can suspect though and look for the answers, as Dawid surely wanted to give us them.

Thanks to Dawids notes we can follow the process of tightening the loop around the necks of the Jews from Kielce and surroundings, until the very last moments in the gas chambers of Treblinka. The language of the diary, the style of narration when writing not only about events but also about thoughts and most of all emotions and perceptions of Dawid make the diary to the invaluable source of knowledge and understanding of the events, that had happened then. Thanks to Dawid we have an priceless testimony of the fate of one of the hundred thousands of Jewish children, who were not given the time to grow up and become adolescent.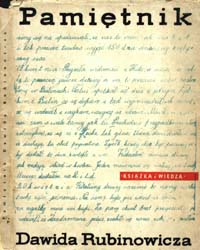 Fot.10
[1942]
1st May: When being in Krajno I brought some little bunches of chives with me. I had some spare time today, so I planted them in the flowerpots. I didn't even managed to finish planting them when my daddy called me to grind, leaving all the staff outside and my brother was to tidy it up. Having finished grinding I went to our flat. When daddy came home, he got very angry at me, that I left the wood in the woodshed in a mess and started beating me right away. I was trying to explain, that I hadn't enough time to pile the wood, and than he was beating me even heavier. I got very irritated, why he is [beating] me with no reason at all. At the end, when he hit me with the buckle several times I started crying heavily, not so much of pain but of anger; I have several heavy bruises that hurt me badly.
[...] If it only weren't a war, I surely wouldn't have been at home; I would have been at some craftsman for a long time by now; and now I have to suffer. Daddy doesn't like me at all either, though I don't regret anything as it is. [...]
6th May: horrible day! About 3 a.m. some knocking woke me up. It was a police raid.
[...] There came in the Polish policeman and the Jewish one. They started searching right away, he saw me and told to put on my clothes and the other asked, how old I was, I said 14 so he left me alone.
[...] Though I wasn't afraid, I was trembling as if in fever. When they left I fell asleep right away. My cousin woke me up in the morning, because daddy came with a cart. I hurriedly put on my clothes and went outside, daddy had already left because he had fled from the police raid right away.
[...] Anciel came and said that my daddy and my cousin had been caught too. It was then that I started crying. They took our father away, property that we had they took away too. Then I started missing my daddy.
[...] The policemen from Bieliny made a raid too. When it calmed down a bit there came two automobiles one with a platform at its back. When I saw them and thought, that daddy would be sent away, I started crying heavily. My brother was told by daddy to bring him some food and underclothes and a little mug, and I burst into tears again, seeing him taking those things with him. Mummy was at the Council all the time trying to get daddy out, they only kept saying that they would let him free. My brother came to take him a warm cap – but he missed the automobile … it was already at the second market square. I wept loudly when he was near, crying daddy! – daddy where are you I want to see you once again and I saw him on the last wagon crying, I was looking at him until he disappeared round the corner; It was then that I started weeping convulsively and felt how much I love Him and he loves me and it was then that I felt, that the words I wrote on 1st May, that he even doesn't like me this is a notorious lie and who knows, maybe I would have to atone for my accusations that were not right. If God will let him come back I won't behave that way. I wept for a long time and when I recalled daddy's face in tears, I started weeping even more. They took away from us all the dearest and what is more he is not well ...
[...] I went to bed and recalled my daddy, I lie here in this comfortable bed and he may not have even straw there, being in some barrack. It grieved my heart so much, that I couldn't stifle my tears and so fell asleep crying.
7th May: [...] I haven't been outside for the whole day. In the evening I went for prayer, because after all it was Friday. Other time we went with daddy, whether we were sad or joyful and we were with our daddy and now… When we came back I was terribly sad, why not be sad, supper was all right, table set, its holiday but when I look at the daddy's seat and he is not there, I feel sorrow and my heart is broken ...
14th May: My Mum when walking down the street was hailed by someone from the Council and given a parcel that daddy sent [...] Daddy sent dirty underclothes, and our cousins sent it too. In the parcel there were three letters as well.
[...] He writes that I should hide because there will be other rides and orders me to put on ladies' clothes. He asks for a few zlotys, but he doesn't know, where to get them from and from where we should get money for our own needs. He points out that we should sell something and rescue him if possible. I cried heavily over this letter so sad. I calmed down a bit and went to read letters from my cousins. They write the same and ask for help. When reading the letters I thought that we are free here (I wouldn't wish such a freedom even a dog, but in any case we are better here than he is over there) and daddy may be yearning for a piece of bread? It is really horrible…
21st May: [...] Daddy sent a few cards through our acquaintances to send him some potatoes bread cooked noodles and wheat groats. We prepared a parcel right away and gave it to the driver. We had forgotten that the Pentecost was coming and we hadn't prepared anything being so occupied with this only thing. It is the first time daddy isn't with us during holiday and what is more he is in a camp.
22nd May: During prayers I felt deep yearning for my daddy. I saw other children standing next to their fathers and if they don't know something during prayer, their fathers show them, and who will show me… only the God gave me good thought to go the right way … I have never been so sad before as today during prayers, when should I be so sad? I wish God let my father come back home soon and in good shape.
1st June: joyful day: We have expected a letter from daddy today but it hasn't come, there came a postcard from our cousin with greetings from daddy, and nothing more. We have prepared a big parcel for daddy because tomorrow the people from the Council are going to Skarżysko.
[...] I wish it were the 3rd and a letter form daddy would come, maybe there is a chance for him to come back home. Toward the evening I went to our neighbour to make sandals for my sister. When making them I heard an automobile coming and somebody singing, so I thought that probably the Jews are coming back from Skarżysko. I run outside right away and it occurred that they are actually coming. One could see them from a distance waving their hands and caps and I saw my daddy waving too. I left everything and followed the automobile running and stopped when the automobile stopped. I took my daddy's bundle and he stepped down from the automobile.
[...] Having come to our flat I couldn't even welcome him of this great joy. Nobody can even imagine our great joy, only the one who feels it. But nobody expected them to come today. It was like a film, in that one second we have experienced that much. [...]